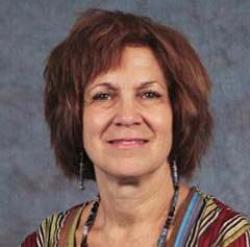 Rowen Schussheim-Anderson
Professor of Art
Rowen Schussheim-Anderson has been teaching at Augustana since 1982 and has served as the art and graphic design department chair.
Her work pushes the boundaries of traditional tapestry weaving. Her studies in New York and Arizona put her in touch with both time-honored fine arts and indigenous craft traditions.
Schussheim-Anderson's tapestries explore the power of textiles as bearers of meaning — thick, embellished warps tangled and rich enough to hold the meaning and power of messages.
Rowen Schussheim-Anderson produces woven tapestries both large and small, wall-mounted and suspended forms. A recent focus has been incorporating beads and beaded strands into her tapestries.  
See more on Tapestry Art.
Specializations: Art
Education
B.F.A., Rochester Institute of Technology
M.F.A., Arizona State