Invest in Success Scholarships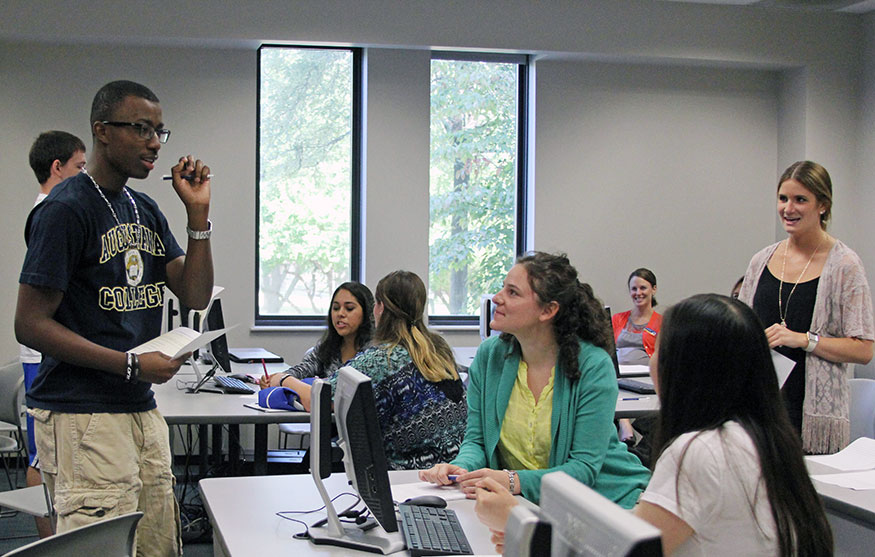 Giving in support of scholarships is a powerful way to show your pride for Augustana College and for its students. Your gift directly helps dedicated students access Augustana's tradition of a quality liberal arts education that will serve as the foundation for the rest of their lives.
Invest in Success Scholarships give you the chance to support an Augustana scholarship in an area that best represents your values and interests.
Gifts of all sizes will be combined to fund individual Invest in Success Scholarships of up to $2,500 each. The scholarships will be awarded each year to deserving Augustana students.
Humanities
Your support of students who study religion, history, literature, languages or philosophy prepares reasoned and ethical leaders for a changing world. (give now)
Business and Accounting
Investing in Augustana's business and accounting scholarships helps students develop excellent technical and liberal arts skills that make them stand out in the corporate world. (give now)
Visual and Performing Arts
Supporting our visual and performing arts students will nurture exceptional talents and bring creativity to our campus. (give now)
Natural Sciences
Excellence in the sciences is a long tradition at Augustana. Funds to assist science students will help those who dedicate themselves to discovery and prepare to be innovators in their fields. (give now)
Social and Health Sciences
Your support of students pursuing studies in healthcare, social sciences, public policy and political leadership will inspire a workforce that will serve those in need and help build healthy communities. (give now)
Education and Communication
Your gifts help spread the Augustana lifelong love of learning to future generations through the good work of quality teachers and communicators. (give now)
Diversity
Funding diversity and inclusion scholarships helps Augustana welcome students of all backgrounds and ethnicities and gives them the opportunity for a comprehensive Augustana experience. (give now)
Greek Leadership
Lifelong friendships, service and leadership development are hallmarks of the Augustana Greek experience. Scholarships will help Greek members make the most of their time at Augustana. (give now)
Faith and Service
Faith and Service Scholarships support students who strive to infuse their faith throughout their studies and through active service. (give now)