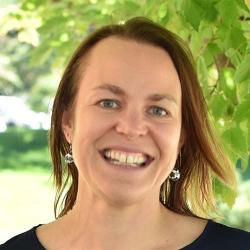 Ann E. Perreau
Associate Professor of Communication Sciences and Disorders, Audiology Clinic Coordinator
• HEAR-T (Hearing + Tinnitus) Lab
For as long as I have known, I have been interested in learning new things and expanding my horizons through reading and education.  Recently my father was reciting a story that when I was in the fifth grade, I gave myself homework to do, even though they did not assign it until 7th grade!  I remember studying in the public library in junior high, seeking out ways to surround myself with books filled with oodles of knowledge and different perspectives than my own. 
In my sophomore year of high school, the guidance counselor asked me what I wanted to do when I "grew up."  I remember thinking that most women in my family became elementary or secondary school teachers, so that would probably be what I would do. But, at that time, I was very interested in medicine, so I started college as pre-med major.
This lead me to discover communication sciences and disorders, an allied health field that blends several disciplines (e.g., psychology, linguistics, physics) into one and explores how we talk, learn language, and perceive sound around us.  As I looked to the next step in my academic career, the best fit was found in studying hearing science and audiology.
I remember working with my first clients in the audiology clinic at the Wendell Johnson Speech and Hearing Center and, although nervous, I quickly found that my knowledge of hearing disorders and efforts to help them hear better were greatly valued.  Learning new ways to improve our understanding of hearing loss and methods to treat it became my inspiration for future work.
After years as an audiologist, I found myself back where I started — teaching! To my amazement, my years of education in speech and hearing science have ultimately led me back to the path that I was destined to take. It is very exciting that I can blend a love of scholarship and talents as a teacher at an institution like Augustana.
Specializations: Hearing, Cochlear implants, Speech perception, Sound localization, Tinnitus
Education
B.A., M.A., Ph.D., University of Iowa