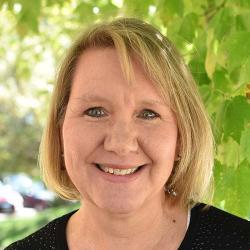 Karen L. Aumuller
Prof. Faculty, Clinical Supervisor, Instructor of Communication Sciences and Disorders and Externship Supervisor
The ability to communicate effectively is such an important part of our everyday lives! As a speech-language pathologist for more than 20 years, I have been blessed to be able celebrate my clients' milestones with them, both large and small.
The reason I love working at Augustana is because I get to continue as a practicing clinician, but I am also helping to teach and inspire the next generation of professionals! I consider myself to be a bit of an "eclectic"in my professional life - I love to learn,  and have happily attended conferences and workshops that will help me to be a valuable member of the Communication Sciences and Disorders department, including working with tongue thrust, accent modification, fluency disorders, voice disorders, and aural rehabilitation.
I hope that students will see my commitment to my clients and be inspired to reach for their very best!
Education
B.A., Smith College
M.A., Northwestern University