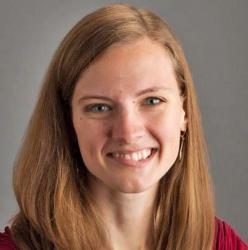 Kelsey M. Arkle
Associate Professor of Geology
I completed my Ph.D. in geology at the University of Cincinnati in 2015 and taught for two years as a visiting assistant professor at my alma mater, Cornell College, before starting at Augustana in the fall of 2017. 
I am an invertebrate paleontologist by training, but my research interests overlap broadly with the field of ecology. 
As a conservation paleobiologist, I use the paleontological record to reconstruct long-term (decade to thousand-year) records of organismal and ecosystem change. These records can then be used to determine community change in regions that have experienced recent impacts by humans. 
My current work focuses on shallow marine seagrass-covered areas surrounding St. Croix, in the U.S. Virgin Islands, and I hope to expand to other areas in the Caribbean, including: Barbuda, Grand Cayman, and Hispaniola, in the coming years.
Education
B.A., Cornell College;
M.S., Ph.D., University of Cincinnati