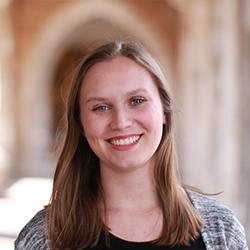 More Than I Imagined
Seniors reflect on accomplishments and look ahead
Christine Vincent
Graduation year: 2019
Hometown: Bettendorf, Iowa
Major: Religion (pre-seminary)
Minor: Political science
Activities: Phi Rho sorority, Greek Council, Student Alumni Board, Phi Beta Kappa
Internships: Augustana Campus Ministries and St. Paul Lutheran Church
Post-grad plans: I will attend seminary either Pacific Lutheran Theological Seminary in Berkeley, Calif., or Lutheran Theological Southern Seminary in Columbia, S.C. I am pursuing a Masters of Divinity and Lutheran ordination. 
Why Augustana?
As a senior in high school, I had originally written off Augustana because it was so close to where I grew up AND my dad works here. I toured campus as a "practice" so I would know what to expect when I went to tour and interview at my "real" potential colleges. But everywhere I went after Augustana didn't compare to the atmosphere I felt on this campus. Small class sizes, paired with a student body and faculty who were enthusiastic about study away and internships made me feel as though I couldn't go to college anywhere but Augie. 
Are you where you thought you'd be when you first came to campus?
Absolutely not, and in the best way possible. I had no idea I'd end up as a religion major. I never dreamed I'd join a Greek group. My ethics have been challenged in ways I couldn't have predicted. I studied away three times (East Asia, Holden Village and northern India) and have had two internships (one with Augustana Campus Ministries and one with St. Paul Lutheran Church in Davenport). I have spent three summers in northern Colorado, hiking, whitewater rafting, worshiping God at Sky Ranch Lutheran Camp. My Senior Inquiry was researching and worshiping with prisoners at Anamosa State Penitentiary. Augustana helped me find and open all of these doors. 
Who helped you get to where you are now?
Dr. Mahn and Pastor Kristen helped me tremendously to think about my calling in the world, and they challenged me to grow. Maxine Bultynck and Wendy Wood have helped me to love who I am and appreciate the value of hard work. They have been my bookstore family since my first day of freshman year.
Peak experience?
During Homecoming 2018, I spent the entire day with Phi Rho alumnae, hearing about their "glory days" at Augustana and also their lives in the years and decades since graduating. It was the first time I could picture myself as an alumna. I am so excited to come back this fall for Phi Rho's centennial celebration and connect with these alumnae again, some of whom are mid-30s, lots of whom are mid-70s. I'm excited to come back for my 50th reunion and connect with current Augustana women. This is a community that lasts for a lifetime, not just four years. 
What surprised you?
I've learned that my faith goes hand-in-hand with social justice. I also learned that I can live out of my suitcase six months out of the year, I can routinely speak confidently in front of 120 women, and that sometimes it is okay to not be okay. The grey matters and it is so important to share our sexpectations.
How did you use Augie Choice?
I used my Augie Choice for my first study away, to travel in East Asia when I was a sophomore. We explored and learned in Japan, Taiwan, Hong Kong and Mainland China. 
What will you miss the most?
I will miss my roomies, my sorority sisters, my classmates and the campus community. I'm tearing up as I write this because this community truly holds my heart. 
Advice for the Class of 2023?
It's okay to be homesick at the beginning. It's okay to question your ethics, to laugh a lot, to let yourself grow: these are the best parts of college. Ask questions, study away, go on adventures.
"Would my first-year advisee, Christine Vincent, be able to handle an upper-level religion course about prophetic religion and social justice? I shouldn't have been worried! Throughout her four years, Christine has built a strong heart and generous, capacious mind dedicated to those most in need. In her Senior Inquiry project, she worked alongside inmates at Anamosa State Penitentiary, where she conducted participant-observation of the incarcerated Christians. Christine is headed to an ELCA seminary after graduation. I cannot think of a more inspiring and socially engaged future leader of the church and world."