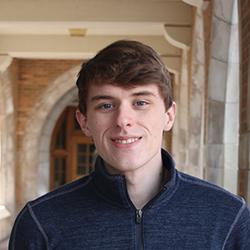 More Than I Imagined
Seniors reflect on accomplishments and look ahead
Kalvin Kozar
Graduation year: 2019
Hometown: St. Charles, Ill.
Majors: Business administration-management, business administration-finance
Minor: Communication studies
Activities: Student Investment Fund, Global Engagement Team, community advisor (CA), Augustana's team leader for the CFA Institute Research Challenge
Post-grad plans: Pursue a law degree
Why Augustana?
I chose to attend Augustana because of the CORE program. It gave me confidence that I would be able to find relevant work after my degree.
Are you where you thought you'd be when you first came to campus?
No, I had no idea where I would be, but I am glad that I've had the experiences here that I did.
Who helped you get to where you are now?
I went through a significant period of transition and growth as a freshman. One of the professors that helped me greatly along the way was Professor Lederman, who, when I was struggling with interpersonal conflict, helped me to understand the importance of finding truly constructive solutions in any situation.
Other professors, such as Dr. Palar, often had great insight into what the business work environment would be for students after graduation, often citing her experiences in HR, and always had solid advice. Professors such as Dr. Boone and Dr. Zhou have both helped me academically and professionally in and out of the classroom, which has been immensely illuminating. Of course, I have had many great peers, professors and mentors at Augustana; it would be a challenge to name them all!  
Peak experience?
One peak experience was the amazing opportunity of participating in the CFA society's Equity Research Challenge. This gave me a unique occasion to practice the application of finance materials in a setting that focused on collaborative leadership, focused research and quality control, and to work with a diverse team of driven students.
What surprised you?
That I'm not a strong quantitative reasoner. But that's okay! I learned that I have a passion for qualitative analysis, and I gained plenty of experiences in and out of the classroom to apply these skills.
How did you use Augie Choice?
I used Augie Choice to help fund an internship over the summer.
What will you miss the most?
I will miss class the most. So many professors are engaging and stimulating with the way they teach, and it makes the classroom a great environment to be in.
Advice for the Class of 2022?
Don't procrastinate, and that Google calendar is your best friend to help with planning work in advance.
"I am appreciative and proud of Kalvin's leadership in cultivating students' experiential learning of investment at Augustana. Kalvin is president of the Student Investment Fund, a student-run organization that manages a portfolio of approximately $100,000. He led a team of five brilliant students and made Augustana's debut in the CFA Institute Research Challenge program, a global competition on equity research. For six months, Kalvin's team researched Baxter (NYSE:BAX), met with the company's management and presented their research to a group of CFA judges. I can only imagine great success for him in graduate school and his career."