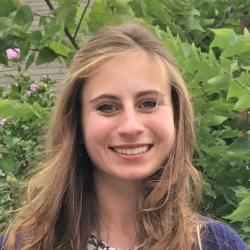 More Than I Imagined
Seniors reflect on accomplishments and look ahead
Allison Bandera
Graduation year: 2021
High school: Faith Christian School
Hometown: Oregon, Ill.
Major: Geology
Minor: Economics
Activities: Campus Ministries, Udden Geology Club, Mortar Board National Honor Society, Phi Beta Kappa academic honor society
Internship: U.S. Army Corps of Engineers
Post-grad plans: Marquette Law School (environmental law)
Why Augustana?
I visited Augie on multiple occasions in high school, and the interactions I had with the professors here during those visits truly made Augie stand out from the crowd. I met with different departments and learned about the amazing opportunities their students took advantage of, and it was apparent that the professors cared about helping their students succeed. This has certainly been characteristic of my experience.
Are you where you thought you'd be when you first came to campus?
The short answer is no! I found a very different path from what I had thought I may choose, and that's the beauty of Augie. I found a love for the environment in my geology major and knew that approaching law school from this background would have a tremendous benefit in my goals of studying environmental law.
While I have taken a different path from what I had originally considered as a freshman, it truly comes down to taking advantage of opportunities and finding what captures your interest.
Who helped you get to where you are now?
I could write pages with so many people to thank, but a few key mentors were critical to my success. My senior thesis advisor, Dr. Jenny Arkle, has played a key role in helping me to achieve my own career aspirations.
I'd like to thank Susan Wolf for her guidance and listening ear. The geology department faculty all have graciously given their time and energy to supporting my success in internships, career goals and classes.
Additionally, the wisdom of Pastor Priggie was a mentorship I am exceedingly grateful for.
Peak experience?
Everything?! My four years here have been outstanding! I am so thankful for the memories I've made here and the lessons I've learned. If I had to choose a peak experience, though, my time traveling with the geology department has been the highlight. From Wyoming, to Tucson, to the Caribbean, the field research and amazing experiences have given me countless memories I will never forget.
What surprised you?
I was amazed at how simple it was to be involved in various departments based on my interests. I minored in economics and loved every class. I was always impressed at how easy it was to find a club or a class in something I was interested in, even if it was completely different from my major. Augie is a great place to explore all of your academic interests.
How did you use your Augie Choice?
I used my Augie Choice to study abroad with the Bonaire Caribbean program during J-term 2020. It was a fantastic experience doing geology field research and using my SCUBA certification to explore the reefs around the island.
What will you miss the most?
I will miss the supportive environment that I've found at Augie. I have been blessed to work with great advisors and faculty mentors throughout my Augustana career, and I thank them for their support, motivation and faith as I pursued my goals.
Advice for the Class of 2025?
Find a mentor and work with them to achieve your educational and professional goals while you're in college! I wouldn't be where I am without the support of my mentors here, and the community here wants to see you succeed. You just have to take that first step and build a support network.
"Allison's exceptional organizational skills and work ethic, coupled with her inquisitiveness to understand the fundamental way that nature works, make her a genuine scholar. Allison completed master's-level Senior Inquiry geologic research, teasing out the tectonic history of Trinidad through a novel use of remote sensing data, and will graduate with the geology department's highest honor. Since sophomore year, Allison has maintained a rigorous internship in GIS project management with the Army Corps of Engineers. She has taken full advantage of the opportunities an Augustana education offers, while also giving back to the college, department and her peers. We are encouraged to have Allison play a role in the future of environmental law!"