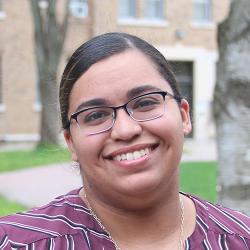 More Than I Imagined
Seniors reflect on accomplishments and look ahead
Autumn Peele
Graduation year: 2021
High school: Belleville East High School
Hometown: Summerville, S.C.
Major: Geology
Minor: Theatre arts
Activities: Udden Geology Club
Post-grad plans: Paid internship with the Wyoming Dinosaur Center in Thermopolis, Wy.
Why Augustana?
The minute I saw the Cryolophosaurus in the lobby of the Swenson geosciences building, I knew that I wanted to come to Augie. There aren't many colleges that offer pathways to vertebrate paleontology with specialization in dinosaurs, so combined with the financial aid I was offered as well as the faculty-to-student ratio, Augustana quickly became a top contender for schools I wanted to attend.
Are you where you thought you'd be when you first came to campus?
No! I knew that I would probably have a supportive friend group and an idea of what I wanted to do post-graduation, but where I am has far exceeded my expectations. I never thought I would get to work so closely with dinosaur fossils, nor did I think I would love my department as much as I do. Every day I walk into the paleontology prep lab is a dream come true, and the confidence I've gained in myself over these past four years is not something I thought I would see.
Who helped you get to where you are now?
The list is nearly endless. The geology department here is one entity that I cannot thank enough. Without them, I would not have the experiences that make me a competitive candidate in job searches or graduate programs, nor would I have been able to make the connections that opened up my thesis to work with Triceratops and Edmontosaurus fossils. In addition to résumé help, advice, office hours and application assistance, the amount of effort they put into ensuring my success is something I will forever be grateful for.
I also wouldn't be who I am or where I am without my fellow majors and minors. I couldn't ask for a better group of brilliant, funny, amazing geologists and friends.
Peak experience?
It's a tie between the J-term trip to Bonaire and my directed study with Dr. Kelsey Arkle. My directed study focused on fossil preparation techniques and that is where I fell in love with lab work. The J-term to the island of Bonaire is where I fell in love with field work.
What surprised you?
The dedication of the faculty to their students really took me by surprise. As a prospective student, I had this idea that college was going to be a place where I would have to essentially be on my own. I don't think I can stress enough just how much time each faculty member puts into their students' success. Their doors and emails are always open, and no question is dumb.
How did you use your Augie Choice?
I used my Augie Choice to help finance the J-term study away program to the island of Bonaire off the coast of Venezuela. We spent about two weeks there, SCUBA diving, hiking, analyzing the geology and conducting an original research project that looked at biodiversity of modern and fossil corals.
What will you miss the most?
The camaraderie. They say if you enjoy your job, you never work a day in your life. The same principle can be applied to class. I'm going to miss the natural chemistry between my fellow majors and the faculty here on campus.
Advice for the Class of 2025?
Experience failure and learn from it; don't crumble because of it. If college has taught me anything, it is that it's okay to fail so long as you get back up and try again. You will not be the only person to do poorly on an exam or get rejected from an internship. Accept it happened and try again.
"Autumn has done an outstanding job on her Senior Inquiry, researching the microscopic anatomy of Edmontosaurus ribs to learn more about the development of this dinosaur. Original scientific inquiry rarely proceeds as one expects, and Autumn encountered numerous challenges during the course of her year-long project. With a great attitude and immense curiosity, she persevered, resulting in a significant contribution to the field of vertebrate paleontology!"