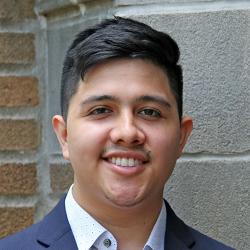 More Than I Imagined
Seniors reflect on accomplishments and look ahead
Diangelo Gonzalez
Graduation year: 2021
High school: Riverside-Brookfield High School
Hometown: North Riverside, lll.
Majors: Biology, public health
Activities: Alpha Phi Omega, a co-ed service fraternity; Iota Chi Epsilon fraternity; Omicron Delta Cappa honor society; Mortar Board honor society; Beta Beta Beta (biology); Phi Beta Kappa academic honor society
Internships: I had the privilege of interning with CVM Cardiology (Unity Point) and shadowing Dr. Sanjeev Puri. I also participated in an undergraduate virtual research internship through Iowa State University this past summer.
Post-grad plans: I have a paid internship in the Department of Genetics at the MD Anderson Cancer Center, which is part of the Texas Medical Center in Houston, Texas. 
Why Augustana?
I chose Augie for numerous reasons. Although somewhat cliché, I absolutely fell in love with the campus when I first visited. The campus, although small in terms of student population, didn't make you feel like you were limited in space.
Coming into Augustana knowing what I wanted to declare a major in, I was especially drawn to their biology and pre-medicine programs. After doing my research into the type of education I would be getting at Augustana, I knew this was the school for me.
Are you where you thought you'd be when you first came to campus?
Not at all! I thought I would only be declaring a major in biology and going to medical school immediately after graduation. After taking an introduction to public health course, I absolutely fell in love with the field and also decided to pick up a major in public health.
Although I won't be going to medical school immediately after graduation, that is still my future plan, but I've realized sometimes a gap year or two isn't such a bad thing.
Who helped you get to where you are now?
College definitely wasn't a walk in the park for me. It knocked me down more times than I would like to admit, but it was through the support of my friends, family, partner, mentors and professors that I was able to find the strength and motivation to keep pushing forward.
The support systems that I had in place helped me to grow into the student and individual that I am today, and for that, I am extremely grateful. No words can express just how appreciative I am for the people in my life who have pushed me to be the best version of myself.
Peak experience?
Although it technically hasn't happened yet, I would say my peak experience here at Augie would be graduating in and of itself. Being a Latino, first-generation college student has not made this journey an easy one.
The fact that I was able to defy the odds and be the first in my entire family to graduate from a higher education institution is an amazing feat. In my opinion, no other experience can compare to that accomplishment.
What surprised you?
Honestly, I'm surprised with how much I was able to grow as a person in these quick four years. My experiences at Augustana have taught me that I will be a student and learning for the rest of my life. Above all, it has taught me that there is always room for improvement and to not become complacent in my day-to-day life.
How did you use your Augie Choice?
I used my Augie Choice to fund my service-learning trip in Costa Rica. We visited Costa Rica for about a week and a half and were able to aid physicians in giving care to Nicaraguan refuges in impoverished parts of the country. It definitely was an experience that I will never forget.
What will you miss the most?
I am going to miss all the people I have met and all the professors who challenged me to be a better student every day and to not settle for anything less than that. These past four years have taught me the importance of connecting with others, and I can't wait to stay in touch with all the amazing people I have met.
Advice for the Class of 2025?
Remember why you started in the first place. Like I previously said, college will knock you down many times. It will make you second guess whether you belong or whether you're good enough. When you have moments of doubt, remember why you took the first steps to begin with.
"I am so proud of Diangelo! Over his time at Augustana, I have seen his growth — as a student, as a public health scholar and as a person. Mentoring him through his research SI this year gave me an opportunity to see glimpses of his future as a healthcare provider with a public health focus. His passion and resilience will be key to what I know is an incredibly bright future — a future that will change many lives for the better!"