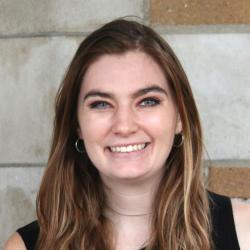 More Than I Imagined
Seniors reflect on accomplishments and look ahead
Jordyn Strange
Graduation year: 2021
High school: Temescal Canyon High School
Hometown: Canyon Lake, Calif.
Majors: History, art history
Minor: Studio art
Activities: Chi Omega Gamma sorority
Internship: Putnam Museum and Science Center, Davenport, Iowa
Post-grad plans: I am taking a gap year and then going to grad school to get my Ph.D. in European history.
Why Augustana?
Augustana really did a great job of making me feel comfortable when I visited, and I loved the small class sizes. I also loved that I got to meet history professors on a visit and really connect with them.
Are you where you thought you'd be when you first came to campus?
No, I came in as a business, history double major who had no interest in being in a sorority. Now my best friends are COGs, and I found a passion and a love for art and art history that I didn't know I had.
Who helped you get to where you are now?
Dr. Ellis has been my history advisor throughout my time here, and he has always pushed me to be the best that I can be academically. He's always been available to help me with anything that I need even if it's not for his class. I could not be more grateful to have a professor who believes in me and has helped me with everything the way that he has.
Also my friends who have encouraged me, specifically Jaidyn Harris and Lexi Roggensack, who believe in me even when I don't believe in myself. I'm so grateful to Augustana for putting them in my life.
Peak experience?
I think just being able to have the opportunity to grow and be independent. It has not been easy being from Southern California moving to the Midwest, but I have learned and grown so much from the experience. I don't think I would have grown this much anywhere else.
What surprised you?
What surprised me the most was how open so many professors and faculty members are. I feel comfortable talking to several of my professors and librarians about anything going on in my life because they really encourage a culture of openness, which is great.
How did you use your Augie Choice?
I studied abroad in Amsterdam for three months, and it was easily one of the best experiences of my life. I highly, highly recommend studying abroad.
What will you miss the most?
Being on campus and being in this environment. It is a very unique one, and I don't think I'll experience anything quite like it ever again.
Advice for the Class of 2025?
Study abroad! It is a life-changing experience. Talk to your professors and let them get to know you; it will help in the long run. Be open-minded and try new things.
"Jordyn handles every task with energy, focus and drive and, as soon as she's done, asks, 'What's next?' From researching Quad Cities suffrage activists and the historical uses of toys to working with books and documents in Augustana's Special Collections, Jordyn has not only gained expertise in European and U.S. histories, but also worked to make history accessible to all. The world is about to gain an indefatigable history maker! What's next?"