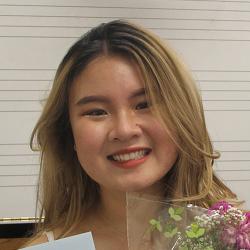 More Than I Imagined
Seniors reflect on accomplishments and look ahead
Ngoc Bui
Graduation year: 2021
High school: Foreign Language Specialized School
Hometown: Hanoi, Vietnam
Majors: Business administration (marketing), economics
Activities: Vietnamese Students Association, UNYK Multicultural Dance Troupe
Post-grad plans: I'm going to work for Katalon, Inc., as a business development representative.
Why Augustana?
Back when I was a senior in high school, I applied to many colleges in the U.S., and Augie was one of the colleges that accepted me. I remember scrolling through the photos and falling in love with the Slough. Augie's campus looked picturesque, which stood out and captured my attention. That was one of the moments when I felt like Augie should be my destination.
Are you where you thought you'd be when you first came to campus?
I'm at a place where I know the direction for my future, where I can take care of myself mostly without the help of others, where I know how to deal with my emotions as well as a place where I'm surrounded by people I love. This place is beyond my expectation from when I was a freshman at Augie.
Who helped you get to where you are now?
When I read this question, the two people who came first to my mind are Mrs. Marmé from the Department of Business Administration and Dr. Marmé from the Department of Economics. Without them, I could never have gotten to where I am today.
To me, Dr. and Mrs. Marmé are not only my professors; they've been giving me the warmth we usually feel when we're around our family members. A memory that I will never forget is a time when I was in my junior year. It was a low point in my life, and I was struggling to balance my life in the U.S. as well as things that were happening at home.
Life was tough. On this day things could not have gone any worse, and I broke down inside one of the restrooms in the BA Department. I thought to myself: 'This should be it. I'm done.' When I left the restroom, somehow I bumped into Mrs. Marmé, and she became my life savior that day and the rest of my life until now.
Peak experience?
My Fall Term 2018-19 in Siena, Italy. Part of my heart lives there.
What surprised you?
The relationships between faculty and students. Some faculty really care about their students. To me, they are not only doing their jobs for paychecks, they are doing things purely out of their heart.
What will you miss the most?
I will miss my friends and my favorite faculty who I didn't have a chance to say goodbye face-to-face due to COVID-19. I will also miss the feeling of being on Centennial's stage where I performed twice a year when I was still at school.
Advice for the Class of 2025?
Please take care of your health. Your health is as important as having FOMO.
"Ngoc (Chrissy) first appeared in my Principles of Macroeconomics class as a sophomore in the winter trimester of 2018-2019. She performed so phenomenally in this class that I pulled her aside and asked if she had considered majoring in economics. She had not but, I am very pleased to say, decided that she would. As exceptional as many of our students are, I can think of few students who compare to Chrissy. I am confident that she has a bright future ahead of her and am eager to see what lies ahead."