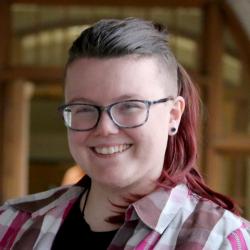 More Than I Imagined
Seniors reflect on accomplishments and look ahead
Audrianna Schneider
Graduation year: 2022
High school: Geneseo High School
Hometown: Geneseo, Ill.
Majors: Geology; creative writing
Activities: Udden (Geology) Club
Internship: Augustana geology department – summer lab manager and research assistant
Post-grad plans: Pursue a master's in volcanology and igneous petrology
Why Augustana?
I visited Augustana when I was just 12 years old, and when I stepped foot inside the Fryxell Geology Museum in Swenson, I knew this was my home. Augustana is a great place where you can just be yourself, and not worry about judgment; you know from the moment you step on campus that you are home.
Are you where you thought you'd be when you first came to campus?
I'm not at all where I thought I would be: I'm even further ahead and above that. Augustana has helped me find my worth in education, as well as a sense of strength. Not only did Augustana's people build me up, but they have urged me beyond what I never knew I could be: me!
Who helped you get to where you are now?
The geology department has helped me through the toughest of times, and has always been there for me. Knowing I have a forever family there is more than I could have ever wished for. Dr. Michael Wolf has taken me under his wing and shown me what I am capable of, and what I am able to accomplish if I put my mind to it and overcome my own anxieties and nerves.
Professor Rebecca Wee in the creative writing department has also guided me through these rough times within a pandemic by encouraging me to write, share and explore the writing realm with showing the world how I have grown and what I have gone through.
Peak experience?
J-term 2020 was the best experience I ever had, where a sort of study abroad experience on the small island of Bonaire allowed me to see oceans and animals and rocks I have never seen before! This trip allowed me to travel outside the USA for the first time in my two decades of life, and it was breathtaking.
What surprised you?
What surprised me during my time at Augie was how far I was able to fly. I've accomplished more in the four years than I thought I could, and I aim to accomplish more.
How did you use your Augie Choice?
I used Augie Choice to support my studies during my summer of 2021 internship with Dr. Kelsey Arkle in the geology department. I studied the last 10,000 years of the Mississippi River beds through piston cores of sediment buildup.
What will you miss the most?
The people. Augustana is my first forever home. Even though I've been a commuter for my four years here, the people have always made me feel like a part of something big. I will miss my found family in geology and the creative writing departments, as well as the strangers I waved to and greeted. I'll never forget the strong sense of community and family that Augustana has been built around.
Advice for the Class of 2026?
Always care for yourself. School may be a priority, but your health and you come first. Be honest with your professors, your friends and most importantly, yourself!
"I've watched Audrianna's intellectual and creative growth at Augustana with deep admiration. I'm as impressed with her attention to the craft and emotional demands of creative writing as I am by her respect for her peers' input and efforts. She is a generous, intelligent and open-hearted student who takes suggestions and challenges seriously while remaining true to her own emotional compass. That's a combination of energies that has served her well in both her creative writing and geology majors, and I look forward to where it takes her next."