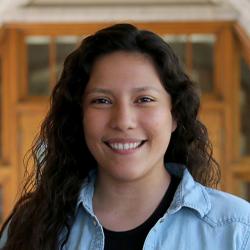 More Than I Imagined
Seniors reflect on accomplishments and look ahead
Gabriela Arreguin
Graduation year: 2022
High school: Beloit Memorial High School
Hometown: Beloit, Wis.
Majors: Public health; communication studies
Activities: Varsity soccer, Delta Chi Theta sorority, Campus Kitchen, intramurals
Internship: NEST Café in Rock Island
Post-grad plans: Looking for a job in the non-profit sector
Why Augustana?
I loved Augustana from the start. It was absolutely beautiful! Before visiting Augie, I had gone on at least 20 other college visits, and I just knew Augie was where I wanted to be. It was welcoming; every person I interacted with was so kind and friendly; and I could picture myself being there for the next four years.
Are you where you thought you'd be when you first came to campus?
Not at all! I came in thinking I would study biology on a pre-med track when I quickly realized that it wasn't for me! I had a meeting with a counselor from CORE who helped me choose my major in public health. From there I was able to find my passion in working on health disparities.
I also did not think I would be as involved with campus activities. But after quitting my beloved sport (soccer), I realized how many other activities I could do to keep myself busy.
Who helped you get to where you are now?
My parents have been the backbone from the start. They provided my twin sister and I with opportunities that got us to where we are now. Whether I was on the soccer field or presenting at my senior capstone, I knew I could count on them to be there.
I was also lucky enough to have my twin sister with me on this journey to study with and hold me accountable. She was not only my sister but also my teammate, roommate and friend.
I would also like to thank my community back home in Beloit for giving me the motivation to keep going. Being a role model to the younger generation is what I have always strived to be, and my hope is that they can see that if I could do it, they can too.
Lastly, I would like to thank my advisors and professors who have guided me and taught me the tools I can carry with me in my next chapter.
Peak experience?
My peak experience was presenting my Senior Inquiry project at Celebration of Learning. It was a really good feeling to see all of my hard work come together so perfectly. I was able to share my work with younger students, Augie alumni, professors and my parents.
What surprised you?
What surprised me was the $40 million donation made by Augie alum Murry Gerber. Although this donation did not affect me personally, I know how important and life-changing it will be for first-generation, low-income students. 
I have no doubt that the students who will benefit from this donation will make a difference at Augustana.
How did you use your Augie Choice?
To complete my internship at NEST Café. NEST Café is a non-profit pay-what-you-can restaurant in Rock Island that serves delicious, healthy and sustainably sourced food to all who enter, regardless of means. It was a great way to get involved in the community outside of Augie.
What will you miss the most?
I will miss the Augie community. There is nothing better than walking through campus on a sunny day and seeing all the friendly faces that you've met from the freshman orientation, Greek life, sports and classes. I will also miss getting to know students from all over the world and learning about each of their unique cultures.
Advice for the Class of 2026?
Take advantage of the opportunities that Augie gives you! Augustana has so many learning opportunities, resources like CORE, career coaches, tutors, and amazing faculty who always want to help. Augie also has so many diverse groups on campus that host events that anyone can go to.
"Gabriela's commitment to and passion for public health have been evident since her first days in the public health program. During her time at Augustana, she has faced every challenge and new experience with grace, persistence and strength. Her positive mindset and problem-solving ability are incredible strengths that will serve her well as she leaves Augustana and moves into the workforce. It has been such a pleasure to see her growth. I know she will go forward to be a force for positive change!"