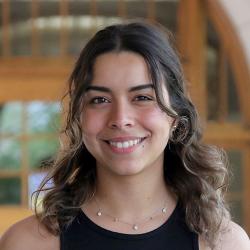 More Than I Imagined
Seniors reflect on accomplishments and look ahead
Nicole Gomes Pacheco
Graduation year: 2022
High school: Colegio Arua
Hometown: Mogi das Cruzes, São Paulo, Brazil
Majors: Business administration (marketing); graphic design
Activities: Varsity tennis, Chi Omega Gamma sorority, OSL graphic designer, Phi Beta Kappa academic honor society
Internship: Graphic designer with Augustana's Fresh Films marketing team
Post-grad plans: Job search in Chicago
Why Augustana?
I have always felt welcomed by Augie. When choosing a college, my intuition always brought me back to Augustana. I do not regret my decision; the connections I made here changed who I am. 
Augustana allowed me to engage in so many extracurricular and leadership opportunities that truly shaped me. This place allows you to find versions of yourself you probably thought didn't exist, and I don't believe there is anything more special than that.
Are you where you thought you'd be when you first came to campus?
Not at all. Firstly, I didn't even know which majors I wanted or the endless opportunities Augie has to offer. I loved that I got to take several classes in different areas that guided me through deciding which major was my best fit. 
Secondly, when I was in high school, my agenda was mainly school and tennis. When I got here, I didn't expect Augie to offer the flexibility to make it possible to engage in different activities. It is very rewarding after four years.
Who helped you get to where you are now?
My parents have always been my biggest supporters since I decided to pursue my college career abroad.
Besides them, I found inspiring mentors in every class I stepped foot in. The faculty here want to see you achieve your best performance, and they truly help you get there.
I also appreciate my advisor Professor Marmé for being understanding and empathetic during my years here. Just overall, the whole Augustana community embraces helping each other.
Peak experience?
Most definitely my internship with Augustana's Fresh Films. COVID had just begun, and I had the opportunity to do a remote internship during quarantine. I am grateful because it was an opportunity for me to do something exciting when the whole world was in chaos. 
The whole internship was amazing. Being outside the classroom was essential to enhance my learning experience, and I am glad I got to experience that with such an excellent group of coworkers.
What surprised you?
How much someone can change in a span of four years. I wouldn't even be able to recognize who I was freshman year, and I love that. 
There are a lot of challenges that come with leaving your home country and your comfort zone. However, I wouldn't do anything different since I feel that each day I am closer to becoming my best version of myself.
How did you use your Augie Choice?
I was going to use my Augie Choice toward a J-term trip to Cambodia. However, it was canceled due to COVID.
What will you miss the most?
Seeing the most amazing people every day. I love having late-night study sessions with my friends or walking to classes and always bumping into someone I know. More than anything, I will miss the people.
Advice for the Class of 2026?
Life is made of cycles. There are always new beginnings when everything ends. So simply enjoy things as they are, and I am sure your college career will be less stressful than you think.
"I met Nicole as a student in my marketing classes. She is an exceptionally bright student who is curious, wants to know more, and is willing to work above and beyond. She is a kind soul who cares about her friends and the people around her. She is observant and a great listener who possesses intellectual resiliency; that is the sign of being a lifetime learner. As she is about to embark on her professional career, she will no doubt be an indispensable asset."