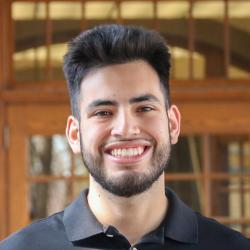 More Than I Imagined
Seniors reflect on accomplishments and look ahead
Walid Alzein
Graduation year: 2022
High school: Naperville Central High School
Hometown: Naperville, Ill.
Majors: Neuroscience; biology
Activities: Club soccer, Rho Nu Delta fraternity, Omicron Delta Kappa honor society
Internship: Texas Medical Center (Baylor College of Medicine), Houston
Post-grad plans: Physician assistant school
Why Augustana?
I learned pretty early in high school that I am the type of student who thrives on close relationships with my teachers. Augustana allowed me to bridge the gap of receiving a high-quality college education without sacrificing the ability to learn in an environment that is most efficient for me. Being able to develop meaningful relationships with my professors, through opportunities such as office hours, is something I knew many colleges or universities could never offer me.
Are you where you thought you'd be when you first came to campus?
No, I came to Augie with a very different path in mind than the one I am leaving with. I never imagined picking up a major in neuroscience, nor did I ever imagine pursuing a career as a physician assistant. I also never thought I would join a fraternity or become the president of the men's club soccer team here on campus.
I am forever grateful that my four years at Augustana led me down this path because it exceeded anything I ever had in mind during my freshmen year.
Who helped you get to where you are now?
My professors helped me more than anyone. There are too many to name, but each professor I had throughout my four years at Augie shaped me into the person I am today. They all mentored me and were patient when I was struggling in class. I can think of so many moments when my professors made it evident that they believed in me, even when I struggled to believe in myself.
The professors here at Augustana are lovely, intelligent and compassionate people who genuinely strive toward the success of their students. The small classroom sizes allowed me to get to know all my professors and for them to learn what type of student I am.
Today, I consider many of them friends, and I attribute a lot of my success to the dozens of amazing mentors I've had during my time at Augie.
Peak experience?
I've done some fantastic things at Augie, such as the Texas Medical Center internship, but my peak experience was becoming the men's club soccer president. I joined the club at the start of my first year and fell in love with the club instantly. Being able to not only play my favorite sport with students from all around the world but also have the opportunity to be a role model to all the students in the club will forever be one of my favorite memories at Augustana.
What surprised you?
What surprised me the most was just how much fun you can have at a smaller college. This was one of my biggest concerns coming to Augie, but I now realize it should've never been a worry. There are so many clubs and groups on campus that provide everyone with plenty of opportunities to have fun and make new friends.
How did you use your Augie Choice?
I used my Augie Choice during my 11-week internship at Baylor College of Medicine during my Texas Medical Center experience. At Baylor, I worked in a neuroscience lab studying mice that were deficient in a gene that has been linked to causing autism spectrum disorder.
What will you miss the most?
I will miss the people at Augustana the most. My friends and professors have all impacted me in such positive ways, and the sad reality is, once you graduate, the frequency of which you see these amazing people diminishes significantly.
I will miss all the conversations, laughs and late-night study sessions with friends. I will miss getting to know my professors and learning everything they had to teach. Though I will miss all these things and more, they will forever live as happy memories.
Advice for the Class of 2026?
Your professor is your greatest tool inside the classroom. This being said, try your best to develop relationships with your professors. Go to your professors' office hours often, and take advantage of all the knowledge or help that they have to offer. The professors at Augie are phenomenal people!
"It has been a pleasure to watch Walid develop his strengths and interests over the last four years. He has been particularly reflective of how much his Augustana education in neuroscience and biology have given him the skills to succeed, even in challenging situations like doing research at Texas Medical Center. He is an inquisitive and critical thinker who leans into a challenge!"