Fryxell Museum programs and outreach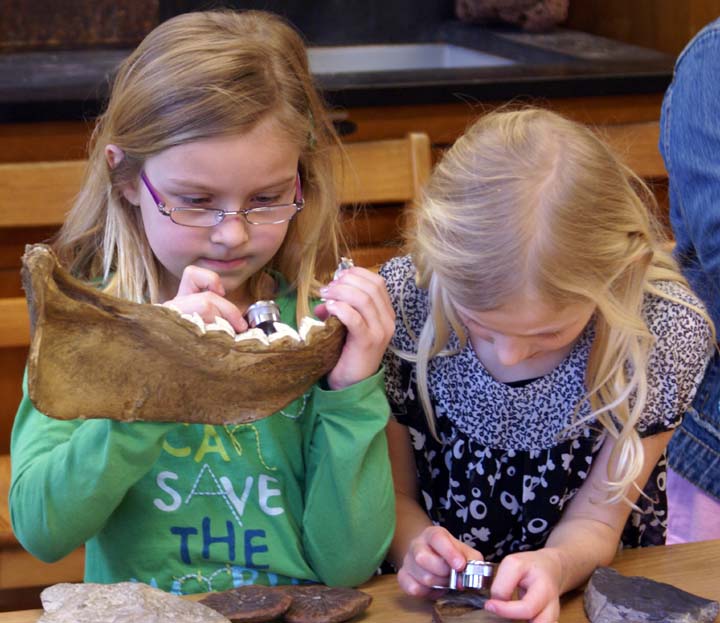 The Fryxell Geology Museum hosts free field trips for K-12 students. The staff provides a guided tour and various 30-minute programs, depending on the age of the visiting group. Teachers should plan about one hour and 15 minutes for a visit.
Students participate in the hands-on program while the host directs exploration of rocks, minerals, and fossils through observation and physical property tests and a game in which students work together to match natural resources (i.e. ores, minerals, and fossil fuel) to their human-made products.
School visits also can be scheduled in conjunction with a free 45-minute planetarium show for third grade and above. Call 309-794-7369 in advance or email Susan Wolf to schedule a field trip.
Here is a suggested list of pre- and post-visit activities.
Geology discovery kits for the classroom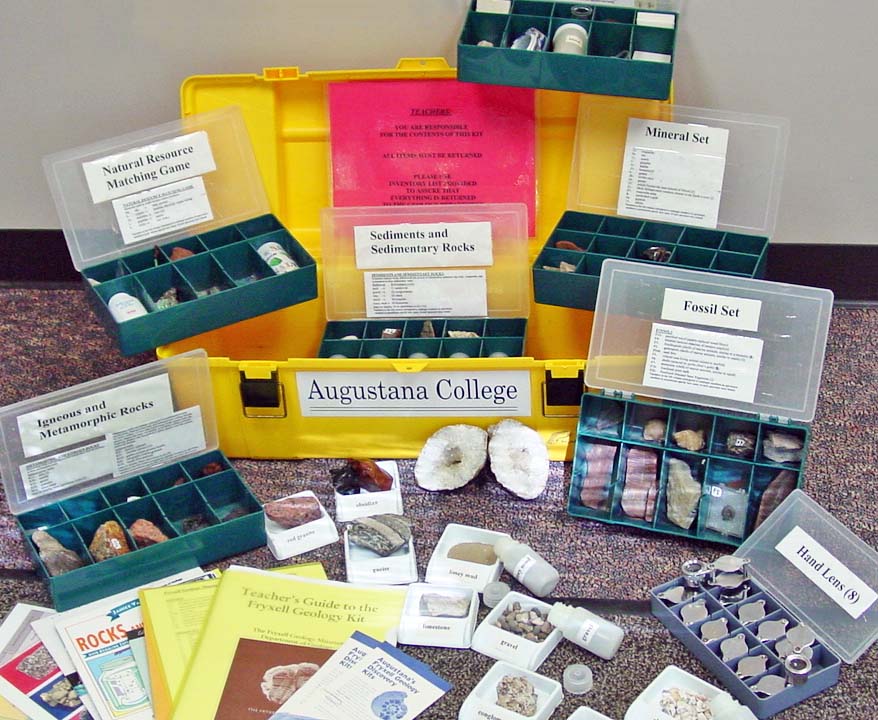 To promote earth-science awareness, geology discovery kits were  developed by the Fryxell staff to support teachers of all levels. These are easy-to-use, hands-on, K-12 teacher-directed  kits with everything needed to set up earth science centers in the classroom.
The free kits are loaned to local K-12 teachers, homeschool groups and Scout troops on a weekly basis.
The kit contains labeled rock, mineral and fossil samples and tools and materials for mineral property testing. No more wondering what that "mystery rock" is in your old school set. Educational games and experiments are included, as well as explanations for the teacher at the elementary or high school level designed for classroom use regardless of whether the teacher has experience in teaching earth science or geology.
The kit is the size of a fishing tackle box and contains:
Mineral set
Igneous and metamorphic rock set
Sediments and sedimentary rock set
Fossil set
Natural mineral resource matching game set
Tools and materials for rock and mineral property testing
Teacher's guide with educational experiments and activities with complete explanations for teachers
Additional published geology activity books
For information about the discovery kit, or to schedule its use, contact Susan Wolf, educational programs coordinator, 309-794-7369
Fryxell Geology Museum
Augustana College
639 38th St.
Rock Island, Ill.  61201-2296