Viking Connections: Tyler Andrews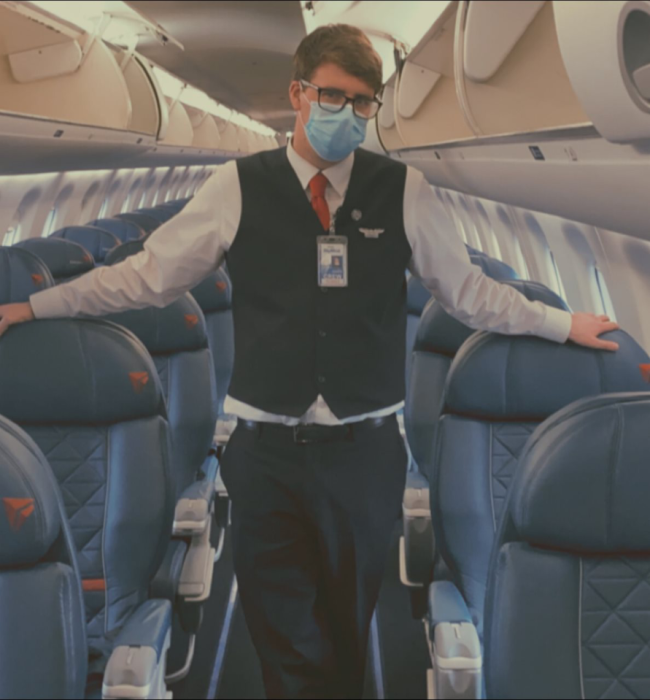 Tyler Andrews is a Flight Attendant with SkyWest Airlines headquartered in St. George, Utah. SkyWest Airlines flies and contracts with four major carriers: Delta, United, Alaska and American Airlines. Tyler provides customer service while performing and continuing to be certified in safety/security procedures through the FAA.
"I have always had mentoring and teaching in my blood and it's second nature to me. It's a passion for me to guide others to where their paths end up going. I love being able to share experiences and describe how processes work and how we go about learning those processes. This is why being a sociology and psychology major/minor was so much fun. The programs and professors were there for me every step of the way. Even though my job may not technically require a college degree, the skills and ways of thinking are what help lead you to the career path you end up on or start out in. Who knows, I may do this for the rest of my life or I could choose to further my degree. Not knowing where you are going is what makes life exciting and it's better to be open and live in the moment. I want to be an instructor eventually and move up in my company. Being a proud Viking is something that will always stick with me and be a presence in my life."
Graduation year: 2019
Major: Sociology/Anthropology
Campus activities: Alpha Phi Omega, GSA, SGA, RHA, Augustana NAMI, Education Club, SASS, Viking Pups, Swimming, Peer Mentor, Camp Kesem, Habitat for Humanity, Victim Advocate Program, Boys and Girls Club
• Best way to contact him: Email