Worship gatherings and services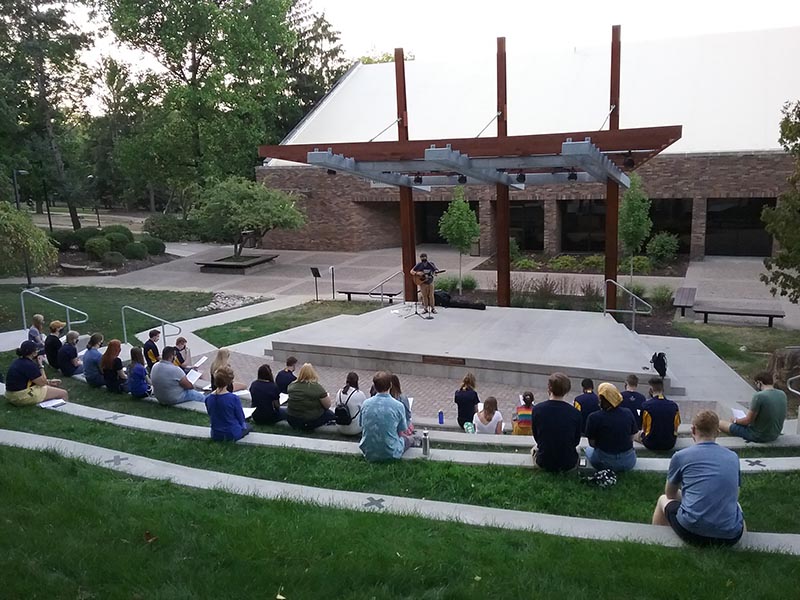 Campus gatherings
Sunday Worship 11 a.m.
Campus Chaplain Melinda Pupillo leads this Christian service, welcoming Christians and non-Christians alike to feel part of the community. Expect music, prayers, a short message/sermon, communion and time for fellowship. Coffee, tea, and treats provided. All are welcome.
This service is held in Ascension Chapel, second floor of the Bahls Center.
Tuesday Meditation 4 p.m.
In the Lindberg Center Meditation Room, various styles of meditation are led by staff members from across campus. Mindfulness practices, basic Buddhist meditation, centering prayer and other styles will be offered. Each session lasts about 30 minutes and will have a little bit of teaching and a lot of space to practice. Beginners are welcome.
8:31 Wednesdays at 8:31 p.m.
The name 8:31 reflects the time the gathering begins on Wednesday evenings. The gathering offers reflection space, readings, music and prayer. This gathering is informal and ecumenical.
8:31 is held at the Anderson Pavilion (weather permitting); otherwise Ascension Chapel, second floor of the Bahls Center
Bible Study 10 a.m. Sundays
Bahls Center basement (two floors below the chapel)
Meet with Pastor Melinda Pupillo. This is more than just study. It's space for questions, doubts and hope. Connect with others and learn how to navigate the Scriptures with a little more ease. Enter off the Quad through the basement door, or any of the first level entries. 
Catholic Mass  8 p.m. Sundays
Local priests will celebrate Mass in Ascension Chapel. Church choir practice will be held at 7 p.m. on Sundays before Mass.
Augie Ascend Bible study will be held on Tuesdays at 6 p.m. in the Bahls Center (lower level). Email Gabrielle Goritz or Laurence Pavlik for details.
Sunday services in the community
Lutheran services: St. Paul Lutheran Church in Davenport, Iowa (check website for service times)
Non-denominational: The House Church in Rock Island (in person or virtual) 10:30 a.m. on Sundays
Jewish services in the community
Augustana community members who wish to attend Jewish services are encouraged to explore the options offered by their home congregations until  ervices in the Quad Cities can be resumed.
For more information, consult Temple Emanuel, Davenport, Iowa, for Reform services and the Tri Center Jewish Center in Rock Island for more a traditional liturgy. Both temples welcome Augustana students for all services, activities and volunteerism.
Muslim prayer
Augustana community members who need a space for the five daily Islamic prayers can use the Muslim Student Association's prayer/worship room in Olin 306. Only two individuals are allowed in the room at the same time.
The Muslim Student Association will hold a weekly Jummah/Friday prayer service in the Lindberg Meditation Room (2nd floor) every Friday. The khuthbah (sermon) starts at 1 p.m. All are welcome.
There are local mosques nearby for students interested in attending Friday/Jummah prayer services. Please read the COVID guidelines before attending Muslim community worship services. 
Islamic Center of the Quad Cities in Moline, Ill.
Muslim Community of the Quad Cities in Bettendorf, Iowa.
Students who have questions about Muslim worship opportunities or are interested in participating in the Muslim Student Association can contact msa@augustana.edu or Dr. Fatima Sattar, MSA faculty advisor.