Weddings in Ascension Chapel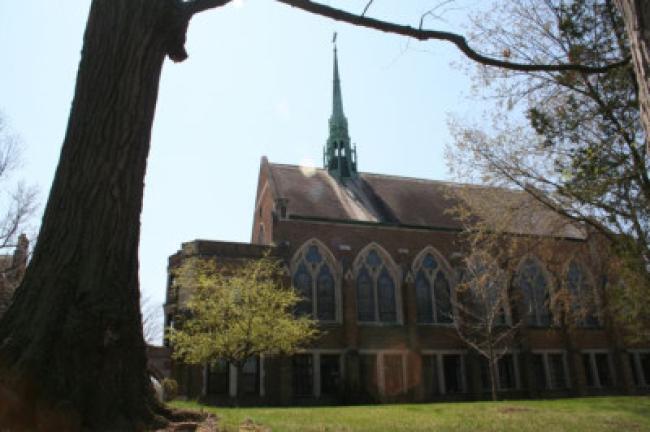 Ascension Chapel, located on the second floor of the Bahls Campus Leadership Center (formerly Founders Hall), is a popular location for weddings.
One of the two people to be married must be a current Augustana College student, alumnus, faculty or staff member, or a son or daughter of a current or retired faculty or staff member.
However, there are other popular wedding venues, such as outdoor spaces or Wallenberg Hall, that are available for rental to the public. Rental fees vary depending on the space, and must be paid before the wedding date. 
All couples holding a wedding on the Augustana campus must provide a certificate of liability insurance naming the college as an additional insured. Details will be listed in the contract.
For more information, or details on the use of other locations on campus as a wedding venue, contact the Office of Conference Services and Campus Scheduling at 309-794-7322.
The street address for Ascension Chapel is 820 38th St., Rock Island, Ill., 61201. (Map)
• Application to hold a wedding on campus
Wedding guidelines for Ascension Chapel
Eligibility
One of the two people to be married must be a current Augustana College student, alumnus, faculty or staff person or a son or daughter of a current or retired faculty or staff member.
Rental fee
Augustana charges $250 to rent Ascension Chapel. This fee also includes the rehearsal, as well as the basement lounge to use as a dressing or staging room on your wedding day, if needed. For those in your wedding party who come already dressed, we offer a room where they are able to sit and relax while waiting for the wedding to start.
Wedding rehearsal and ceremony dates and times
Most weddings in Ascension Chapel take place on Saturdays, but with certain restrictions weddings may also take place during the business week or on Sundays. On Saturdays, wedding couples may access the chapel as early as 9 a.m. and weddings should be completed no later than 9 p.m. On Sundays, the time period must fit between worship services normally held in the chapel and therefore wedding couples may have access no earlier than 2 p.m. and the wedding must be completed by 6 p.m.
On Mondays, Tuesdays, Thursdays and Fridays, it is important to remember that the Bahls Campus Leadership Center houses several offices which must conduct business from 8 a.m.–4:30 p.m. Access to the building is very restricted and parking is more limited than usual. Very small private ceremonies can be held during the day if desired, and Friday evening weddings can also be scheduled. 
Augustana College does not permit weddings at any time when the campus is closed, or during:
• New Year's Eve and New Year's Day 
• Easter weekend
• Commencement weekend
• Augustana's SloughFest performance day (large scale student event)
• Memorial Day weekend
• Juneteenth
• Fourth of July
• Labor Day weekend
• Family Weekend
• Homecoming weekend
• Thanksgiving weekend
• Christmas Eve and Christmas Day
• The semester break between and including Christmas and New Year's Day
The chapel is not air conditioned and can get very warm during the summer months. Summer weddings are not prohibited, but we strongly suggest that wedding couples take warm weather into consideration when deciding to use Ascension Chapel in June, July and August.
Time allowance
The wedding party is allowed one hour for the rehearsal and four hours for the wedding. There will be an additional fee of $100 per hour, or portion thereof, when a wedding party goes over the time limit allotted to them for either the rehearsal or the wedding. A staff person will be present during this time to answer questions and respond to reasonable needs. Please arrange with your photographer and florist to stay within this time frame. We ask that you make every effort to remain within your reserved time.
Parking
Parking is available on the east and west sides of 38th Street and in any of these parking lots: the southeast corner of 7th Avenue and 38th Street; east of Centennial Hall on 7th Avenue, and in the WVIK lot. It is also wise to erect signs directing guests to the parking areas. On Saturdays, limited parking is available in the circle drive near the chapel and in the Seminary parking lot. These lots are not available for use during the week. We suggest that these areas be used as guest drop-off points only.
If using a shuttle to transport guests to and from the parking lots, please be advised that most buses and trolleys are incapable of negotiating the small circle drive outside of the chapel. Please limit your shuttle size to a van or be prepared to drop off and pick up guests on 38th Street at the base of the drive to the chapel. 
Accessibility
Ascension Chapel at Augustana College is located on the second floor of the Bahls Campus Leadership Center (formerly Founders Hall). An accessible ramp is located on the south side of the building, and the chapel is accessible via a chair lift. There is no elevator in the building. An accessible unisex bathroom is located on the first floor of the building.
Clergy
You may bring in your own pastor to perform the ceremony or ask one of the college chaplains to officiate. Any clergyperson or officiant legally permitted to conduct weddings in the state of Illinois may officiate in Ascension Chapel.
Decorating
The seating capacity in Ascension Chapel is approximately 250. For decorating purposes, there are 15 pews on each side of the chapel. Pew bows are allowed, however, please ask your florist to limit the types of greenery used in your floral designs to those that do not shed.
We ask that you do not use tacks, wire, or tape on the pews. A minimum of floral decoration is necessary to enhance the beauty of the chapel. All decorations are to be removed from the chapel at the completion of the ceremony.
Aisle runners
For safety reasons, an aisle runner is strongly discouraged, as it tends to "bunch up" when walked on, possibly resulting in someone tripping. If a runner is desired, the heavier the material used, the better. The center aisle is 68 feet long.
Candles
If you would like to use our two candelabras, you will need to provide seven "dripless" taper/dinner candles for each one. If your service includes a unity candle, you will need to provide those candles along with the holders. Candle lighters-snuffers are available for use, at no charge. Please arrange for someone to serve as acolyte.
Furnishings
Couples who wish to include Holy Communion as part of their wedding will supply the communion bread, wine and serving dishes. Wedding programs, if you desire to have them, are also to be printed and supplied by the couple. Any chairs that are moved in the chapel are to be moved back immediately after the ceremony; please assign someone for this job.
Photography
Ascension Chapel and the Augustana campus present many opportunities for beautiful wedding photography. Depending on your wishes, chapel photos may be taken before or after the wedding, or both.
Once worship begins, however, photographers are asked to respect the religious nature of the service. Still flash photographs may be taken as the wedding party is walking in and walking out of the church. A few still photographs, without flash, taken from the rear of the church, are permitted during the wedding. A stationary video camera on a tripod is permitted near the front of the church; speak to the pastor regarding the best location.
Music
Ascension Chapel is equipped with a grand piano. Piano tuning must be requested at least 30 days in advance and will be billed to the wedding couple. 
Wedding couples are welcome to use the organ in Ascension Chapel, but please know it is a specialty instrument and not every organist will know how to play it. Please check with your organist to make sure they are trained to play this specific instrument.
There is a computer and PA system for those wedding couples who choose to use pre-recorded music. Please assign someone to be in charge of playing the music during the wedding as chapel staff are unable to provide this service.
Any classical or religious music may be played in the chapel. Wedding couples who wish to play more contemporary or popular music should provide a playlist to the campus chaplain at least 30 days prior to the wedding. 
Refreshments and alcohol
Wedding couples are permitted to bring refreshments such as bottled water or light snacks for themselves and the wedding party to consume prior to the wedding. Please be advised that no vending machines are available in the building or area. Alcohol is prohibited on campus.
Smoking
Smoking is prohibited in all campus buildings and on college property.
What to toss
Since rice, confetti and flower petals are difficult to remove, please use birdseed or bubbles outside of the chapel and the Bahls Center. Balloons may not be released as they can present an environmental hazard to wildlife and they can become entangled in the large trees on campus.
If a junior attendant will be dropping flower petals inside the chapel, please use silk petals as real flowers stick to the tile floor and are difficult to remove.
Clean-up
It is especially helpful to assign a friend or family member as a personal attendant to assist in the clean-up of the dressing rooms, chapel and make sure everything is put back in place, and all personal items have been removed. A cleaning fee will be assessed to the wedding couple if Augustana custodians must clean up following the wedding.